Trix Academy is run by Danielle and is available to boys and girls aged 5-16.
​Here at Trix we offer Gymnastics for All (GfA) classes only which is the flagship discipline of the sport.
We are about 'More Opportunities for More People' and offer a wide range of experiences for all our participants such as;

Gymnastics with or without apparatus
​Local Carnival Involvement
​Club Shows
Display Teams &
​Competitions!
​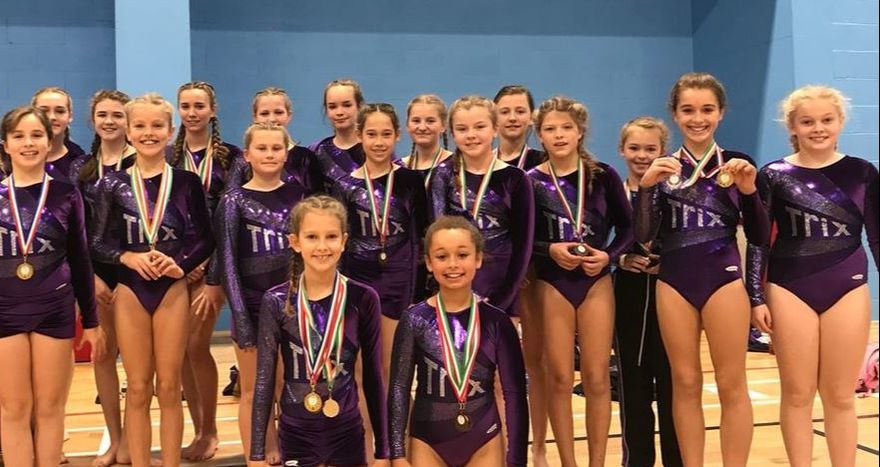 ​What is Gymnastics For All?
​(GFA)
​
The basic skills can be learnt within these classes on the floor, vault, bar and beam, whilst improving balance, coordination and body control. The children will work towards badges and certificates available through the British Gymnastics Awards Scheme, which will be presented yearly at the clubs awards ceremony. We encourage all gymnasts to take part in the clubs events, summer carnivals and Christmas shows.

If your child enjoys the shows they can work towards auditioning to be in our GfA Display Team who perform at many of the clubs events and British Gymnastics regional and national festivals throughout the year. Their biggest event is the GymFusion which is the British Gymnastics national Festivals programme. It offers the opportunity for teams of gymnasts to perform in a show style, non-competitive event where the emphasis is on fun and friendship. It offers a fantastic experience for both gymnasts and spectators alike by capturing the ethos of Gymnastics for All; the bringing together gymnasts of all ages, genders and abilities, to enjoy the diverse range of physical activities offered by the sport.

Children may also reach a certain level where they will then be invited to join our competition classes. These classes must be fully committed to the training hours (3-6hours per week) and are expected to compete at regional level as a team or individually. Our competition classes follow the GfA East Midlands rules & regulations.

The competition squads can also work towards joining our Elite Display Team who compete nationally & internationally. Gymnastics for All provides opportunities for international representation. The World Gymnaestrada sees in excess of 20,000 Gymnastics for All enthusiasts the world over, come together to perform routines of national and cultural significance in front of adorning fans from all corners of the globe. Gymnastics for All also provides opportunities for competitive teams e.g. World Gym for Life Challenge in order for participants to mix it with the best.