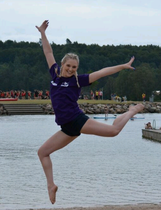 Hi, my name is Danielle.

​My aim was to create a gymnastics club where every gymnast matters!
At Trix we are part of a club, a team, so we will perform together and support each other no matter what level we are at. All abilities are included in our carnivals, shows and events. With a choice of our fun weekly classes, to joining the display teams to competing, Trix will find a suitable class for you. We offer all classes opportunities, suitable to their abilities, it is down to you to get involved!
​
​
The Team
Sharon Shepherd - Club Secretary & Level 2 Coach
​Alf Shepherd - Level 3 Coach & Club Judge
Chloe Jeffrey - Women's Artistic Level 2 Coach
​Issy Hall - Level 1 Coach


​​Here is how it began....

I started Gymnastics at the age of 7 and competed in club,
regional and national competitions. As part of my training I was lucky enough to
get the chance to represent Great Britain in the World Gymneastrada held at
Portugal in 2003 and Austria in 2007. And I also travelled to Italy to be part of the Festival Del Sole in 2004. I qualified as a Gymnastics Coach in 2005 and as a Tumbling Judge in 2009. I have been teaching classes ever since and was last employed under Richmond Borough Council, London.

After School I went on to study a BTEC National Diploma in Performing Arts, at
Derby College, and became very interested in Dance. To further my education I went on to achieve a BA (Hons) Dance Degree from Roehampton University, London. Whilst at University I took part in the Cheerleading team which involved competing nationally against other Universities. I competed within my squad and also in a duet. To compete as a duo it involved choreographing our own routine to which we were successful enough to win our category. In 2011 I achieved
my qualification to teach it, so I can now include cheer stunts and tricks into our show routines.

In the Summer of 2011 I heard about Zumba.
With Dance being a huge interest of mine I enrolled onto the course
immediately. From then on I have set up my own classes and was last employed by Belper Leisure Centre. I enjoy dancing to music and have found it's a great way to exercise, however the academy has become my priority now!


After graduating from University in June 2012 I put all my qualifications together to set up this academy. I began a few classes a week at Denby institute, our local community hall, and in January 2013 I was lucky enough to gain my own room at Marehay. Due to the clubs success and support I was able to move it to Belper in January 2014 and set it up as a built in gymnasium. The club then tripled in size giving me no option but to look for bigger premises and more coaches. In January 2015 Trix Academy opened in Little Eaton, providing new and even better facilities for the children. Trix can now offer the same opportunities that I had when I took part in the sport running classes Monday to Saturday. We are all fully CRB checked and registered with British Gymnastics.

Come and be part of our friendly atmosphere at Trix!



---